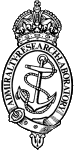 Admiralty Research Laboratory - Outstations
Over the years ARL established a number of out-stations in the UK in support of the research; the majority set-up to serve a particular purpose. Those out-stations given the title Admiralty Experimental Station (AES) had their title changed to Admiralty Research Laboratory Extension (ARLE) in 1969. Others e.g. Loch Goil, Loch Fyne and Rona, acquired the formal title of Her Majesty's Establishment (HME).

---

AES (HME) Loch Goil was established in 1942 by ARL's Acoustics Group (D-Group) as a quiet water, radiated noise measurement facility i.e. noise range.

---

AES / ARLE Perranporth was situated on the North Cornish coast. This was the main ARL site for underwater acoustic experiments from ~1944 to 1972.

---

Admiralty Marine Physical Station (AMPS) Portballintrae, NI was set-up by ARL's Acoustics Group (D-Group) in collaboration with the Instrumentation Group (K-Group) specifically as a level of protection to shipping in the Clyde Approaches, in 1953, under ARL's project codenamed CORSAIR - long range, shore-based submarine detection using novel cross-correlation techniques on broadband acoustic signals from the U/W arrays.

---

AES / ARLE Unst was situated on the northernmost island of the Shetlands and co-located with RAF Saxa Vord. It was established in 1955 under ARL's project codenamed CORSAIR.

---

A mobile range facility was initially used in AES (HME) Loch Fyne to relieve the workload of (nearby) Loch Goil, in the 1950s. With the ever-increasing requirement for noise ranging, permanent facilities were constructed in the early 1960s.

---

To be added: ARL facilities at Rona, Glen Fruin and Coulport.
This page is under construction